topics
USJC Promotes Bicycle Use Toward a Decarbonized Society – Kuwana Station North Bicycle Parking –
2023年06月22日
USJC concluded a comprehensive partnership agreement with Kuwana City on April 26, 2022, to realize a sustainable society. As one of the collaborations, we promote the use of bicycles by students toward a decarbonized society.
As part of activities, USJC is to donate eco-friendly cashier paper rolls to Kuwana City for five years until 2026, and we recently delivered it for 2023 to staff of the Urban Management Division of Kuwana City Hall.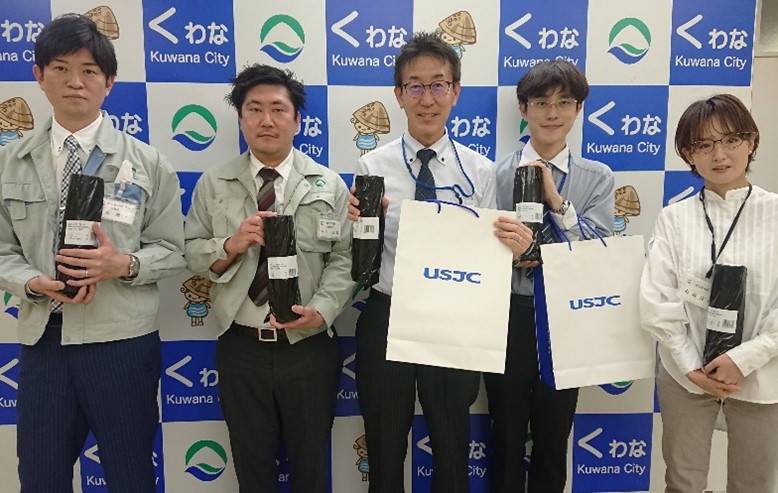 (Staff of the Urban Management Division, Kuwana City Hall)
These are used as receipts for Kuwana Station North Bicycle Parking. Furthermore, students who use the parking and pay for the parking pass in cash, can receive a 3% discount from the regular fee on a limited period*.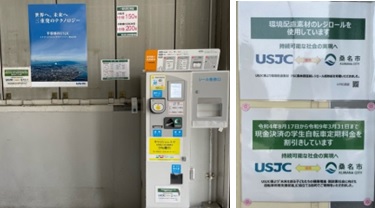 (The fare adjustment machine at Kuwana Station North Bicycle Parking. USJC poster is being displayed.)
*a limited period (discount period): Purchases from August 17, 2022, to March 31, 2027
(Reference)
Notice of Regular Student Bicycle Usage Fees for Kuwana Station North Bicycle Parking Lot / Kuwana City(kuwana.lg.jp)