topics
Donating the killifish to a nearby elementary school
2021年06月08日
As part of our social contribution activities, we donated killifish grown at the Mie Factory to a nearby elementary school on May 11 and 14.

Comments of Principal, Vice-Principal, Science Teacher:
"I was surprised at the big killifish. They look healthy. A full-time science teacher has been working with us from this year, and we are currently breeding creatures from the Tado River in four fish tanks."
"We will use them in the 5th grade classes. Normally we need to buy killifish, so we are grateful that you gave them to us. Thank you so much."
"It's time for killifish to lay eggs, so we will raise them carefully in the fish tanks."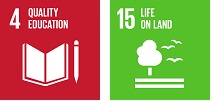 ---
Initiatives for Environmental Targets
Activities to provide killifish Every May, we provide neighboring elementary schools with medaka fish (killifish) that have been bred in the Mie Factory for monitoring discharged water. This is useful for science classes in which 5th grade children raise and observe killifish.
Environmental Report 2020