CSR / Environment
Sustainable Development Goals(SDGs) were adopted by United Nations in 2015. To achieve the 17 targets of SDGs by 2030, business sectors are expected to play a big role in innovation to solve the global environmental issues, such as water, energy, sustainable production and consumption and climate change.
We aim to realize a smart society with our customers, and we contribute to the innovation to solve social and environmental issues in order to achieve SDGs by providing customers with technology platforms based on our strengths in semiconductors applied to "automobile" and "IoT".
Massage
Since starting operations in 1984, Mie Plant has endeavored to continue business in harmony with society and the environment together with our employees through activities to prevent global warming, reduce chemical substances and reduce waste.
United Semiconductor Japan Co., Ltd.
President Michiari Kawano
Activities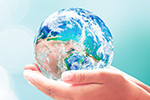 For the Global Environment
While engaging in activities to reduce greenhouse gas emissions and waste, we also contribute to the realization of a sustainable society through the development of advanced technologies, such as ultra-low power consumption technology.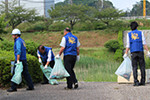 Together with the Local Community
We are encouraging each of our employees to raise their environmental awareness by contributing to the environment and society on a community basis, promoting biodiversity conservation, and participating in various events so that all become good environmental citizens.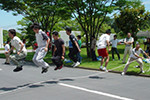 Together with Employees
We aim to be a company where all employees continue to grow while maximizing their individual strengths through work and where diversity is respected, employees enjoy their job, and employees are proud of the company. we continue to be committed to occupational safety and health activities to achieve zero industrial accidents.
Responsible Minerals Sourcing
Human rights violations and forced labor related to conflicts in the Democratic Republic of the Congo (DRC) and its neighbors are drawing international attention. Particularly, it is concerned that the exploitation of mineral resources in these areas could lead to fund armed groups engaged in conflicts. In response to this situation, the "Dodd-Frank Wall Street Reform and Consumer Protection Act" was established in the United States in 2010. The act identifies tantalum, tin, gold and tungsten (3TG materials) and other minerals specified by United States Department of State, as "conflict minerals". Under this act, companies listed in United States' stock exchange are required to report their usage record and the country of origin regarding conflict minerals produced in DRC and its neighboring countries. As a member of United Microelectronics Corporation (UMC), United Semiconductor Japan Co., Ltd. (USJC) strives for responsible minerals sourcing and prohibits to use 3TG materials relating to conflicts and human rights violation which come from DRC and its neighbors. USJC exercises due diligence to check whether upstream smelters/refiners of the suppliers utilize conflict minerals. We use Conflict Minerals Reporting Template (CMRT) and Cobalt Reporting Template (CRT) developed by the Responsible Minerals Initiative for the due diligence. USJC expects our suppliers to support our policies and corporate on the due diligence. We strive for avoiding the use of conflict minerals to prevent human rights violations and violence with responsible minerals sourcing throughout our entire supply chain. USJC will reasonably disclose information to customers and other stakeholders upon their request regarding our policies of responsible minerals sourcing, the use of minerals, and other related matters.
Business Continuity Management (BCM) Policy
As a semiconductor foundry which provides industry leading solutions, our goals are offering technologies with high quality and high reliabilities, maintaining production system, ensuring business continuity, and building trust from customers and society.
【Fundamental Principles】
・Protection of Human Life Our first priority is to ensure the safety of employees, their families, visitors, partner companies, and local residents. ・Prevention of Secondary Disaster We will minimize property damage and prevent secondary disasters in the event of an incident ・Protection of Our Customers' Business We will resume operations at the earliest point to ensure our customers' business activities in the event of an incident. ・Cooperation and Coordination with local communities We will cooperate with local communities and provide mutual support during both normal times and disasters.
【Code of Conduct】
Act in accordance with fundamental policy. ・Conduct impact analysis and risk assessment on business operations, and establish and implement BCM targets in response to changing business environment. ・Keep promise with customers and comply with laws and regulations related to Business Continuity Management System (BCMS). ・We will strive to continuously improve BCMS performance effectively.
Occupational Health and Safety Policy
We will put the safety and health of all people working in our company first, respecting consultation and participation with workers and working to ensure a healthy and comfortable work environment.
1.With the goal of achieving zero occupational accidents, we will formulate goals and action plans based on our policies and manage their progress with the participation of all people working at the company in order to eliminate all hazards and harmful factors in the workplace, and will operate the PDCA cycle appropriately. We will also promote traffic safety activities by raising the awareness of workers with the goal of reducing traffic accidents.
2.We will comply with the Occupational Health and Safety Law and other related laws and regulations, and ensure the health and safety of workers in accordance with the safety and health regulations established by the Company.
3.Through the appropriate implementation and operation of our occupational health and safety management system, we will strive for continuous improvement and maintain and enhance good performance.
4.In order to eliminate sources of danger and reduce health and safety risks, we will conduct risk assessments in all workplaces to prevent occupational accidents.
5.We will strengthen our disaster prevention system, minimize damage to life and property, and strive to maintain or smoothly restore operations.
6.To reduce the fatigue and stress of workers, we support the promotion of a comfortable work environment and health promotion.