CSR / Environment
『持続可能な開発目標(SDGs:Sustainable Development Goals)』が2015年に国連で採択されました。これは2030年までの達成をめざす17の目標で、水、エネルギー、持続可能な生産と消費、気候変動など、地球環境課題の課題解決に向けたイノベーションに企業の役割が期待されています。
当社は、「自動車」、「IoT」に搭載される半導体へ我々が得意とする技術をテクノロジープラットフォーム化してお客様に提供することによって、SDGsを達成するための社会・環境課題の解決に向けたイノベーションに貢献していきます。
Massage
当社の製造拠点である三重工場は、1984年の操業開始以来、地球温暖化防止、化学物質削減、廃棄物削減などの環境負荷削減活動を通じ、継続的に低減効果を実現してまいりました。さらに、当社が得意とする超低消費電力技術をお客様に提供することによって、負荷低減に貢献して行きたいと考えています。今後も、SDGsへ貢献するため、環境負荷低減活動の推進をしてまいります。
ユナイテッド・セミコンダクター・ジャパン株式会社
代表取締役社長 河野 通有
Activities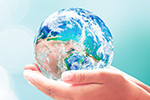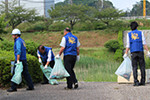 Together with the Local Community
We are encouraging each of our employees to raise their environmental awareness by contributing to the environment and society on a community basis, promoting biodiversity conservation, and participating in various events so that all become good environmental citizens.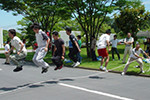 Together with Employees
We aim to be a company where all employees continue to grow while maximizing their individual strengths through work and where diversity is respected, employees enjoy their job, and employees are proud of the company. we continue to be committed to occupational safety and health activities to achieve zero industrial accidents.
Responsible Minerals Sourcing
Human rights violations and forced labor related to conflicts in the Democratic Republic of the Congo (DRC) and its neighbors are drawing international attention. Particularly, it is concerned that the exploitation of mineral resources in these areas could lead to fund armed groups engaged in conflicts.

In response to this situation, the "Dodd-Frank Wall Street Reform and Consumer Protection Act" was established in the United States in 2010. The act identifies tantalum, tin, gold and tungsten (3TG materials) and other minerals specified by United States Department of State, as "conflict minerals". Under this act, companies listed in United States' stock exchange are required to report their usage record and the country of origin regarding conflict minerals produced in DRC and its neighboring countries.

As a member of United Microelectronics Corporation (UMC), United Semiconductor Japan Co., Ltd. (USJC) strives for responsible minerals sourcing and prohibits to use 3TG materials relating to conflicts and human rights violation which come from DRC and its neighbors. USJC exercises due diligence to check whether upstream smelters/refiners of the suppliers utilize conflict minerals. We use Conflict Minerals Reporting Template (CMRT) and Cobalt Reporting Template (CRT) developed by the Responsible Minerals Initiative for the due diligence.

USJC expects our suppliers to support our policies and corporate on the due diligence. We strive for avoiding the use of conflict minerals to prevent human rights violations and violence with responsible minerals sourcing throughout our entire supply chain.

USJC will reasonably disclose information to customers and other stakeholders upon their request regarding our policies of responsible minerals sourcing, the use of minerals, and other related matters.