CSR / Environment
FUJITSU Way, the corporate philosophy of the Fujitsu Group, advocates that "Through our constant pursuit of innovation, the Fujitsu Group aims to contribute to the creation of a networked society that is rewarding and secure, bringing about a prosperous future that fulfills the dreams of people throughout the world." We strive to fulfill our responsibilities to society by putting this philosophy into practice.
President's message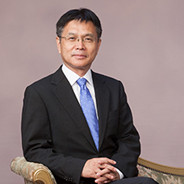 Since starting operation in 1984, the Mie Fab, the manufacturing base of Mie Fujitsu Semiconductor, has continuously made efforts to reduce environmental impacts through activities such as promoting measures to counteract global warming, reducing chemical substances used in products, reducing waste, and so on. In addition, we work to reduce environmental impacts on our customers and the Earth by offering products that have an ultra-low power consumption design, one of our areas of expertise. We will continue to promote activities to reduce environmental impacts on our customers and the Earth under Fujitsu and Fujitsu Semiconductor Group's Environmental Policy.
Mie Fujitsu Semiconductor Limited
President and Representative Director
Michiari Kawano
Activities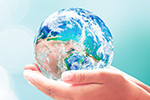 For the Global Environment
While engaging in activities to reduce greenhouse gas emissions and waste, we also contribute to the realization of a sustainable society through the development of advanced technologies, such as ultra-low power consumption technology.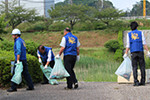 Together with the Local Community
We are encouraging each of our employees to raise their environmental awareness by contributing to the environment and society on a community basis, promoting biodiversity conservation, and participating in various events so that all become good environmental citizens.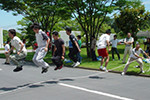 Together with Employees
We aim to be a company where all employees continue to grow while maximizing their individual strengths through work and where diversity is respected, employees enjoy their job, and employees are proud of the company. we continue to be committed to occupational safety and health activities to achieve zero industrial accidents.
エコキャップ活動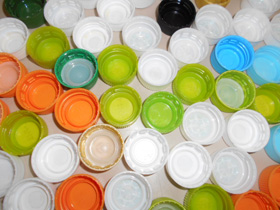 当社は、ペットボトルキャップを回収してリサイクル業者に買い取った利益を世界の子供たちのワクチン購入資金として寄付する活動に賛同し、キャップを回収して活動団体へ提供しています。